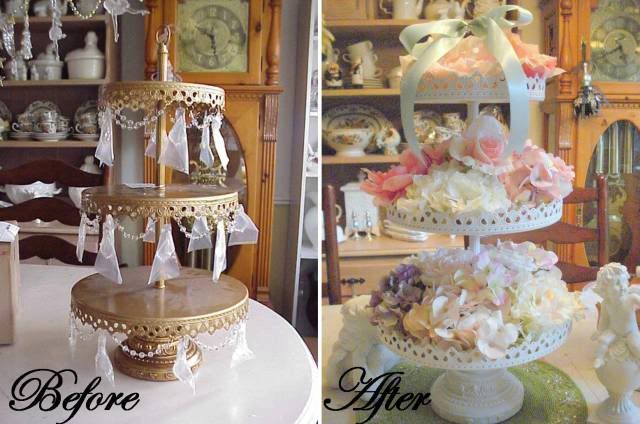 This next makeover almost didn't happen. When I first saw this, I walked right by it. I immediately dismissed it as it wasn't close to what I wanted. A few steps later the light bulb *lit*
I've seen so many tiered trays, some made with vintage china plates, some in silver, some are wired baskets, I'm sure you've seen some of them. I've never seen one that I've fallen in love with that was in my almost non-existent budget.
So this is what I almost passed up last December....
Gorgeous...no?! NO, well, not yet! ;)
A Christmas present to myself. Price, $19.99. Bonus, it had all the glass beads and crystal drops *happy dance*. Did you notice how dusty the thing was?! Yuck! Fortunately the crystal drops were covered, unfortunately the crystal beads weren't. But for $20, what's a little soap & water...no?
Another drawback, notice that top tier is doing it's best impression of that tower in Pisa...
After I dismantled it, turns out the rod was bent. No worries, I'll go to Home Depot and let them figure it out. Seems you can't straighten them. So I bought a new rod, they cut it to size for me, so I was back in business. I have to mention, getting all the drops and bead swags off was a bloody pain!
Step 1:
Base coat of Kilz original sealer/primer spray paint (Lowes or Home Depot) Applied to all parts, spacers, nut covers, finial and trays. No need to spray the nuts & rod, you never see them. (I'm sure there is a joke in there somewhere but I'm keeping my mouth shut! ha!)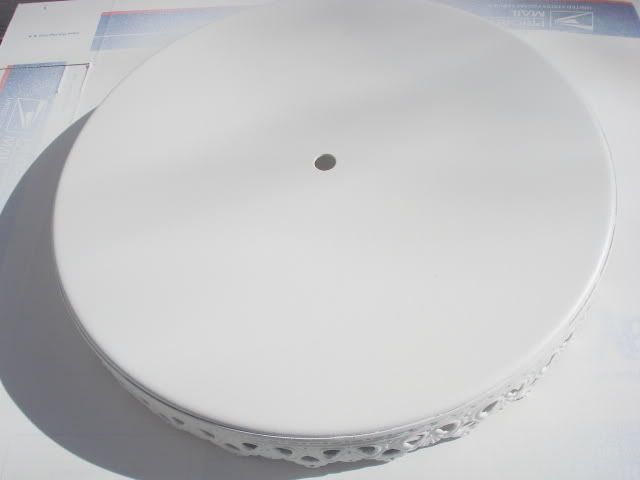 Let it dry completely before you spray the other side.
I put the spacers on a wooden paint brush handle so I could rotate it as I sprayed
Step 2:
Two coats of American Accents Blossom White. Let dry between coats.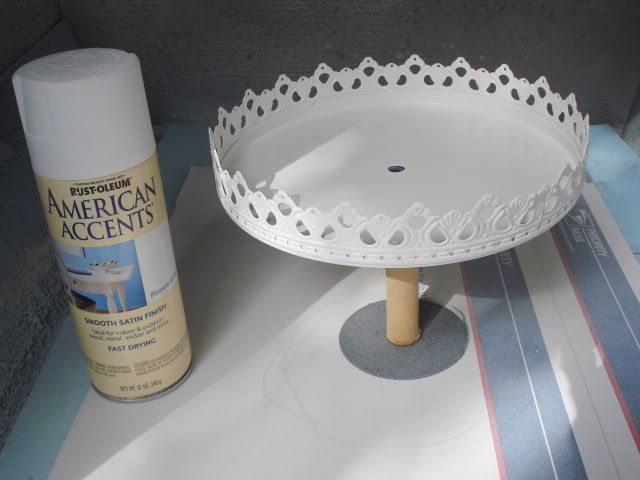 How many coats you apply is to your taste. Just be sure to let it dry between coats ;)
Once everything is dry, it's time to reassemble and as you know, I didn't put it back
exactally
as it was...
And to think, I almost walk away without it! I so love it! Here it is without the faux hydrangea blooms & roses...
I have to add, painting something like this takes more work than painting furniture! All the drying time is a hassle, but I think it was worth it!
Hope I've inspired you to transform something from "not quite right" to "absolutely perfect"!
Cheers!